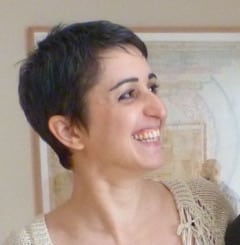 The Plane Tree 31 Roman Road E2 0HU London (UK)
The Plane Tree
31 Roman Road
E2 0HU
London (UK)
Phone number
+44 (0)20 3022 5892
Website
theplanetree.co.uk
99 Muswell Hill Road Muswell Hill London N10 3HT
99 Muswell Hill Road
Muswell Hill
London N10 3HT
Phone number
+44 (0)20 8883 1441
CLERKENWELLBEING 178 Goswell Road, London EC1V 7DT
CLERKENWELLBEING
178 Goswell Road,
London EC1V 7DT
Phone number
020 7490 4042
About Me
I graduated at the British Academy of Rolfing™ Structural Integration in January 2017 and I practice in North London (Bethnal Green and Muswell Hill).
I have been a medical doctor since 2004, mostly working in paediatrics. A need for a richer human relationship with my patients, and questions about my own health, have brought me to explore what health really means to me and how I can achieve and maintain it.
Rolfing™ was part of this exploration: undergoing the ten Rolfing ™ sessions, as a client myself, was a deeply transformative process. Freedom from pain, tension and holding patterns allowed me to cope better with life challenges, be well, have energy, feel nourished, loved and creative.
Later, studying Rolfing™ Structural Integration enabled me to integrate my knowledge and skills into a more holistic understanding of health that goes beyond the absence of pain and other symptoms.
Special Interests: having been a paediatrician for many years, I am particularly interested in Rolfing™ for children and I am planning my future Rolfing™ studies in this direction.