I feel physically and emotionally much more balanced
I slept better, ached less and left each session feeling a new freedom and lightness in mind, body and heart
'A body is a web connecting everything with everything else' - Ida Rolf
The Official Website for Certified Rolfers™ in the UK
Rolfing
®
Structural Integration is a method of deep tissue manipulation and movement education that aims to balance the body so it can deal more efficiently with the downward force of gravity.
Named after American biochemist Dr Ida Rolf, Rolfing® addresses patterns and tension that can develop as a result of trauma, work demands, or postural habits, to restore a more efficient and easier alignment. Whilst a person may have pain in a particular place, Rolfing® recognises the interrelatedness of the body and so treats the entire structure through a systematic approach called the 'Ten Series'.
Benefits of Rolfing® include, improved posture, improved flexibility and range of movement, enhancing the ease of breathing, releasing painful holding patterns and managing acute and chronic pain from past injuries.
LOWER BACK PAIN
SCIATICA
HIP PAIN
FROZEN SHOULDER
REPETITIVE STRAIN INJURY (RSI)
LACK OF MOBILITY
POST OPERATIVE PAIN
HEADACHES
TEMPOROMANDIBULAR JOINT DYSFUNCTION (TMJ)
NECK PAIN
TENSION RELEASE FOLLOWING TRAUMA
What is Rolfing®?
Rolfing® is a form of hands-on bodywork and movement training that re-organises the connective tissue of the body (fascia) so that it can function more effectively. Over time, events in our life, such as injury or trauma can lead to our natural alignment in gravity to be lost. This causes internal stresses resulting in physical and emotional discomfort. Rolfing® aims to correct these imbalances and reduce the compensations and stresses that cause pain.
Rolfing® is named after American biochemist Dr Ida Rolf who developed the method in the 1950's. For more information, see What is Rolfing®? on the Frequently Asked Questions page.
What is Fascia?
Fascia is a layer of fibrous tissue that forms a continuous web throughout the whole body. Also known as connective tissue it provides a responsive structure that adapts to demands placed upon it, creating a flexible and mobile system. It surrounds, supports, and penetrates all muscles, bones, nerves and organs of the body.
Through the Rolfing® touch, the elasticity and sliding capacity of fascia can be restored and the body structure aligned to function with greater ease.
Watch the video below to learn more about Rolfing® and Fascia.
Benefits of Rolfing® include:
Improved range of movement
Enhanced ease of breathing
Release of painful holding patterns
Management of acute and chronic pain
Increased sense of wellbeing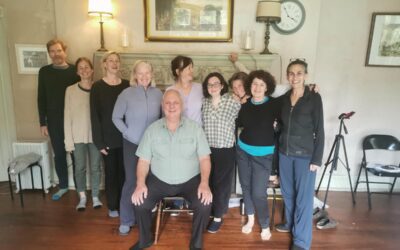 Jeff delivered a thoroughly engaging and, in many ways, mind-boggling workshop on joints, bursae, and tendons. Drawing on his over 40...
read more